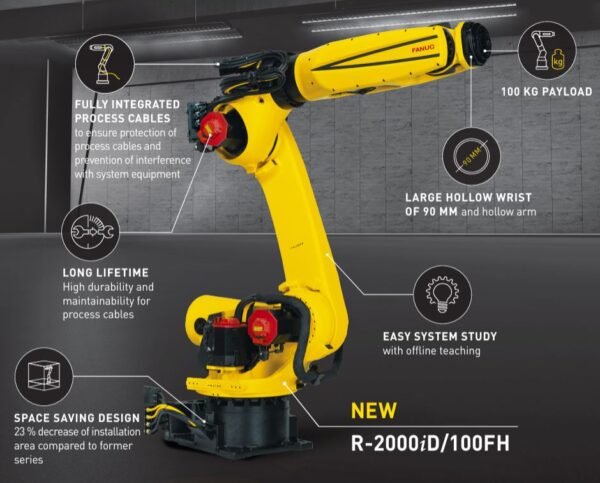 With a payload of 100 kg, the R-2000iD/100FH Fanuc robot is ideal for a wide range of heavy handling jobs in almost any application.  Because of the wide open maintenance slots, its hollow arm design allows for completely internal cable routing by allowing easy access to the integrated process cables for independent exchange.  When compared to the R-2000iC models, the installation area was reduced by 23%.  Its compact shape and design facilitate integration, and the integrated process cable routing demonstrates a significant advantage during offline simulation due to completely eliminated interference contours of the cables.
The new R-2000iD series cables are designed for high durability and ease of maintenance, reducing maintenance time and costs.  The R-2000iD series requires a minimum footprint of 678 x 536 mm, saving valuable floorspace on the production floor.
Press the "Contact Us" button below to have our RobotWorld engineering team reach out to you or give us a call at 313-242-0505 today!
Specifications
| | |
| --- | --- |
| Axes: | 6 |
| Payload: | 100 kg |
| H-Reach: | 2605 mm |
| Repeatability: | ±0.05 mm |
| Robot Mass: | 1150 kg |
| Controller: | R30iB Plus |
| Mounting: | Floor |
Motion Range
| | |
| --- | --- |
| J1: |  370° |
| J2: |  140° |
| J3: |  234° |
| J4: |  420° |
| J5: |  250° |
| J6: |  420° |
Maximum Speed
| | |
| --- | --- |
| J1: | 105 |
| J2: | 130 |
| J3: | 130 |
| J4: | 200 |
| J5: | 160 |
| J6: | 300 |