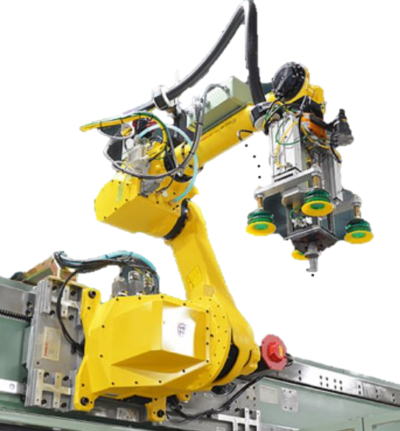 The M-710iC/70T is a fantastic option for tasks like assembly with heavy loads. The top mount option on this model allows you more customization.
This series of Fanuc robots has a slender wrist, a sturdy arm, and a small footprint. This top mount version, which has the best repeatability in the entire range, is the lightest. With its numerous mounting options, which can support 70 kg, you may conserve floor space.
Please use the "Contact Us" button below to have our RobotWorld engineering team contact you, or call us at 313-242-0505 today!
Specifications
| | |
| --- | --- |
| Axes: | 6 |
| Payload: | 70 kg |
| H-Reach: |  1900 mm |
| Repeatability: | ±0.07 mm |
| Robot Mass: | 410 kg |
| Controller: | R30iB Plus |
| Mounting: | Floor, Inverted, Angle |
Motion Range
| | |
| --- | --- |
| J1: | *Rail Dependent |
| J2: |  261° |
| J3: |  491° |
| J4: |  720° |
| J5: |  250° |
| J6: |  720° |
Maximum Speed
| | |
| --- | --- |
| J1: |  *Rail Dependent |
| J2: | 120 |
| J3: | 120 |
| J4: | 225 |
| J5: | 225 |
| J6: | 225 |