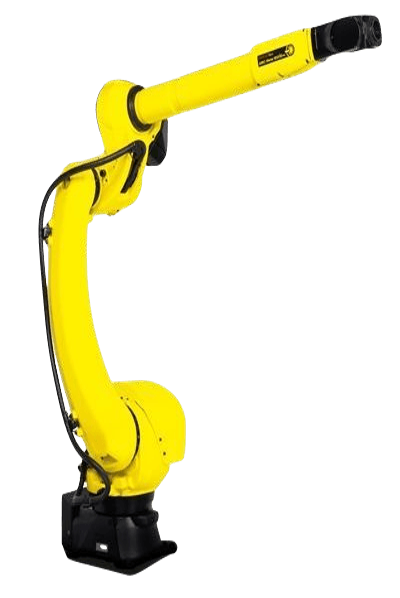 The Fanuc ARC Mate 120iD-12L, which was created especially for welding applications, leads its class in axis speeds and precision. The highly adaptable robot's extremely long horizontal stroke allows it to weld large components. It can carry extra tools and torches weighing up to 12 kg to further maximize flexibility and expand the range of possible applications.
This long arm model, with a 2272 mm reach, offers the longest reach of the ARC Mate series for welding tasks where reach is a key consideration.
The ARC Mate 120iD series' extra-smooth surfaces reduce spatter buildup. The robot is the best choice for soiled welding or cutting applications because the wrist axes' IP67 protection shield it from moisture and dust.
Call us at 313-242-0505 or click the "Contact Us" button below to have a member of the RobotWorld engineering team get in touch with you!
Specifications
| | |
| --- | --- |
| Axes: | 6 |
| Payload: | 12 kg |
| H-Reach: |  2272 mm |
| Repeatability: | ±0.03 mm |
| Robot Mass: | 250 kg |
| Controller: | R30iB Plus |
| Mounting: | Floor, Inverted, Angle |
Motion Range
| | |
| --- | --- |
| J1: |  340° |
| J2: |  260° |
| J3: |  475° |
| J4: |  400° |
| J5: |  360° |
| J6: |  900° |
Maximum Speed
| | |
| --- | --- |
| J1: | 210 |
| J2: | 210 |
| J3: | 265 |
| J4: | 420 |
| J5: | 420 |
| J6: | 720 |