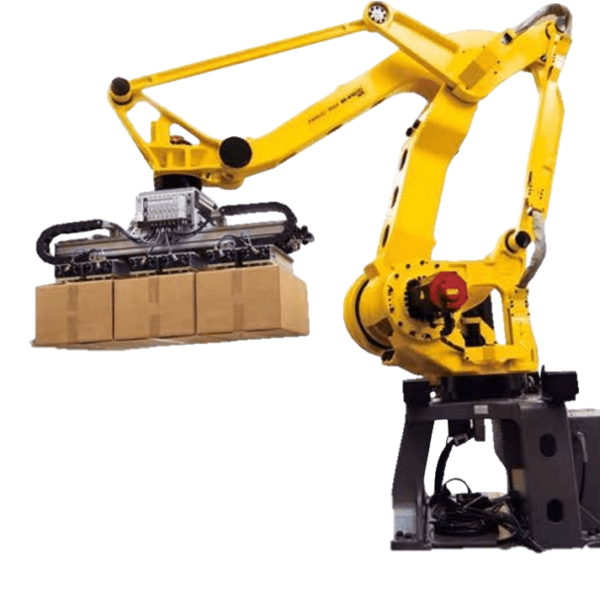 The M-410iC/500 palletizing robot increases throughput and has a lifting capacity of 500 kg. The M-410 series is the solution for palletizing and handling applications, designed specifically for the job by the company that built the world's first dedicated palletizing robot.
For greater flexibility, the M-410iC/500 can be pedestal mounted depending on the application. The robot controller can be housed within the pedestal or as a separate unit.
The integration team at RobotWorld Automation can assist you with any questions you have about an upcoming application. Call us at 313-242-0505 or leave a message by clicking the contact us button below.
Specifications
| | |
| --- | --- |
| Axes: | 4 |
| Payload: | 500 kg |
| H-Reach: | 3143 mm |
| Repeatability: | ±0.05 mm |
| Robot Mass: | 2410 kg |
| Controller: | R30iB  |
| Mounting: | Floor |
Motion Range
| | |
| --- | --- |
| J1: | 370° |
| J2: | 144° |
| J3: | 136° |
| J4: | 720° |
| J5: |   – |
| J6: |   – |
Maximum Speed
| | |
| --- | --- |
| J1: | 85 |
| J2: | 85 |
| J3: | 85 |
| J4: | 200 |
| J5: |   – |
| J6: |   – |