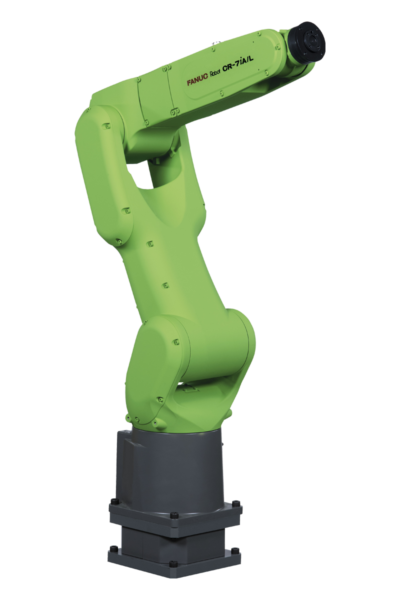 The Fanuc CR-7iA/L is a long reach version of the CR-7iA Fanuc collaborative robot.  It has six axes and a maximum payload of 7kg and is capable of handling many time-consuming manual tasks.
Collaborative robots do not need the safety fencing of traditional industrial robots and can work side by side with humans to tackle complex and repetitive tasks.  These robots can be equipped with Fanuc Vision Sensor or a Fanuc 3D area sensor to locate or envision workpieces.
Call us at 313-242-0505 or click the "Contact Us" button below to have a member of the RobotWorld automation team get in touch with you.  We are an authorized Fanuc integrator and are happy to help with all of your automation needs!
Specifications
| | |
| --- | --- |
| Axes: | 6 |
| Payload: | 7 kg |
| H-Reach: | 911 mm |
| Repeatability: | ±0.01 mm |
| Robot Mass: |  55 kg |
| Controller: | R30iB Plus |
| Mounting: | Floor, Inverted, Wall |
Motion Range
| | |
| --- | --- |
| J1: |  340° |
| J2: |  166° |
| J3: |  384° |
| J4: |  380° |
| J5: |  240° |
| J6: |  720° |
Maximum Speed
| | |
| --- | --- |
| J1: | 500 |
| J2: | 500 |
| J3: | 500 |
| J4: | 500 |
| J5: | 500 |
| J6: | 500 |