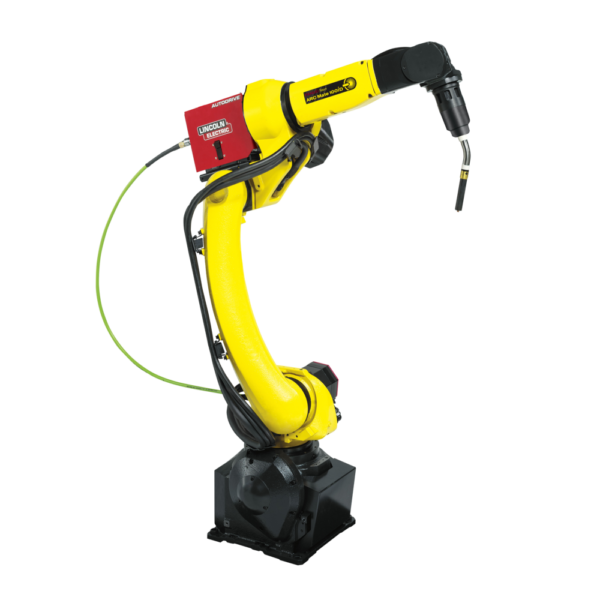 The Fanuc ARC Mate 100iD robot is an excellent solution for arc welding applications. This arc welder allows for easy routing of the welding dress-out and seam tracking sensor cables throughout the robot. It eliminates robot interference with peripherals and work cell equipment, improving the overall system reliability and ease of use.  The rigid arm of the ARC Mate 100iD provides high-speeds for precise robot motion.
The torch and sensor cables can be easily integrated into the J3 arm due to the larger J4 and J6 hollow tubes. The wire feeder can be conveniently mounted behind the J3 arm as well.  The ARC Mate 100iD features the new robot controller R-30iB Plus, which now has a more flexible appearance, based on an improved user interface.
Press the "Contact Us" button below to have our RobotWorld engineering team reach out to you or give us a call at 313-242-0505 today!
Specifications
| | |
| --- | --- |
| Axes: | 6 |
| Payload: | 12 kg |
| H-Reach: | 1441 mm |
| Repeatability: | ±0.02 mm |
| Robot Mass: | 145 kg |
| Controller: | R30iB Plus |
| Mounting: | Floor, Inverted, Angle |
Motion Range
| | |
| --- | --- |
| J1: |  340° |
| J2: |  235° |
| J3: |  455° |
| J4: |  380° |
| J5: |  360° |
| J6: |  900° |
Maximum Speed
| | |
| --- | --- |
| J1: | 260 |
| J2: | 240 |
| J3: | 260 |
| J4: | 430 |
| J5: | 450 |
| J6: | 720 |