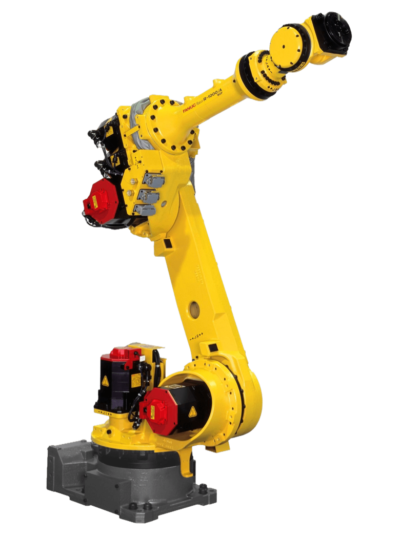 The five axis Fanuc R-1000iA/80H robot is ideal for robotic palletizing applications due to it's high speed and small footprint.  It offers high throughput and reliability using the Fanuc R30iB controller.
The slimline model is perfect for high transfer speeds making it an excellent choice for highly productive compact cells.
Press the "Contact Us" button below to have our RobotWorld engineering team reach out to you or give us a call at 313-242-0505 today!  We are a premier Fanuc Integrator in the greater Detroit area!
Specifications
| | |
| --- | --- |
| Axes: | 5 |
| Payload: | 80kg |
| H-Reach: |  2230 mm |
| Repeatability: | ±0.03 mm |
| Robot Mass: | 610 kg |
| Controller: | R30iB |
| Mounting: | Floor/Inverted/Angle |
Motion Range
| | |
| --- | --- |
| J1: |  360° |
| J2: |  245° |
| J3: |  215° |
| J4: |  20° |
| J5: |  720° |
| J6: |    – |
Maximum Speed
| | |
| --- | --- |
| J1: | 185 |
| J2: | 180 |
| J3: | 180 |
| J4: | 180 |
| J5: | 500 |
| J6: |    – |