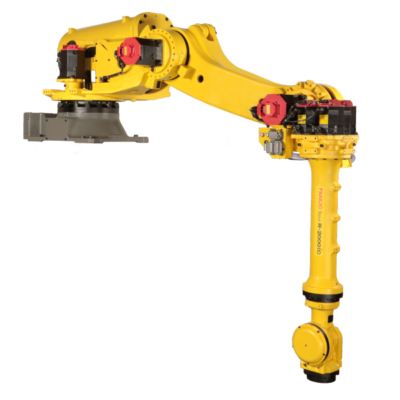 The R-2000iC/100P, as a pedestal mount version of the well-proven and highly reliable R-2000iC Series, ensures maximum productivity for press-to-press transfer applications in the Automotive and Automotive Components industries. It is quick and versatile, and it has been designed to shorten cycle times on a variety of operations.
This robot has faster J1 and J6 speeds which allow it to meet shorter standard press motion (SPM) cycle times.
Give us a call at 313-242-0505 or click the "Contact Us" button below to discuss your application with the RobotWorld engineering team.
Specifications
| | |
| --- | --- |
| Axes: | 6 |
| Payload: | 100 kg |
| H-Reach: |  3540 mm |
| Repeatability: | ±0.05 mm |
| Robot Mass: | 1470 kg |
| Controller: | R30iB Plus |
| Mounting: | Pedestal |
Motion Range
| | |
| --- | --- |
| J1: |  370° |
| J2: |  200° |
| J3: |  375° |
| J4: |  720° |
| J5: |  250° |
| J6: |  720° |
Maximum Speed
| | |
| --- | --- |
| J1: | 120 |
| J2: | 100 |
| J3: | 115 |
| J4: | 140 |
| J5: | 140 |
| J6: | 210 |