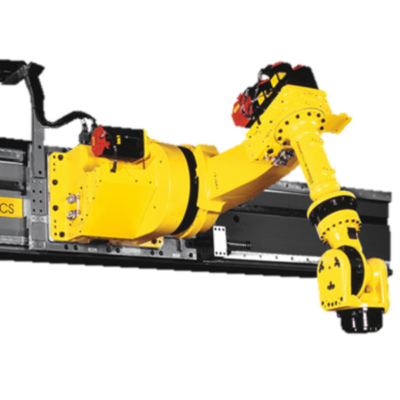 This top or rail mount 6 axis Fanuc robot, model R-2000iB-200T, saves valuable floor space and expands your options when space constraints limit the scope of your cell designs. It is an excellent choice for machine tending applications because it is designed for a wide range of processes and can serve multiple machines.
This robot can lift up to 200 kg with a 2200 mm envelope, making it ideal for medium and high payloads while saving floor space!
Press the "Contact Us" button below to have our RobotWorld engineering team reach out to you or give us a call at 313-242-0505 today!
Specifications
| | |
| --- | --- |
| Axes: | 6 |
| Payload: | 200 kg |
| H-Reach: |  2208 mm |
| Repeatability: | ±0.3 mm |
| Robot Mass: | 1100 kg |
| Controller: | R30iB Plus |
| Mounting: | Inverted, Angle |
Motion Range
| | |
| --- | --- |
| J1: |  *Rail Dependent |
| J2: |  245° |
| J3: |  406° |
| J4: |  720° |
| J5: |  250° |
| J6: |  720° |
Maximum Speed
| | |
| --- | --- |
| J1: | *Rail Dependent |
| J2: | 70 |
| J3: | 90 |
| J4: | 110 |
| J5: | 110 |
| J6: | 155 |