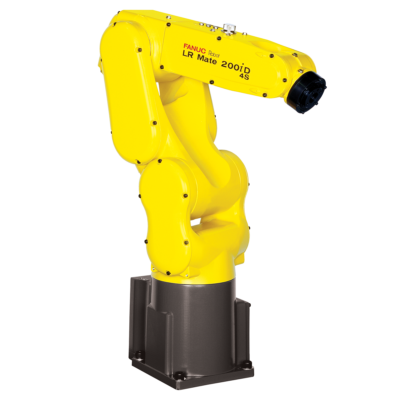 This 6-axis short arm robot is incredibly small and was created for small and restricted places. This model is simple to integrate and offers a variety of alternatives, such as integrated intelligent capabilities (robotic vision & force sensing) and unique application packages.
This model may be mounted practically anyplace because it weighs only 20 kg. The LR Mate 200iD/4S is the perfect option for extremely small places thanks to its slim arm, compact design, and wiring that runs through the arm and wrist.
Press the "Contact Us" button below to have our RobotWorld engineering team reach out to you or give us a call at 313-242-0505 today!
Specifications
| | |
| --- | --- |
| Axes: | 6 |
| Payload: | 4 kg |
| H-Reach: | 550 mm |
| Repeatability: | ±0.01 mm |
| Robot Mass: | 20 kg |
| Controller: | R30iB Mate |
| Mounting: | Floor, Inverted, Angle |
Motion Range
| | |
| --- | --- |
| J1: |  340° |
| J2: |  230° |
| J3: |  402° |
| J4: |  380° |
| J5: |  240° |
| J6: |  720° |
Maximum Speed
| | |
| --- | --- |
| J1: | 460 |
| J2: | 460 |
| J3: | 520 |
| J4: | 560 |
| J5: | 560 |
| J6: | 900 |