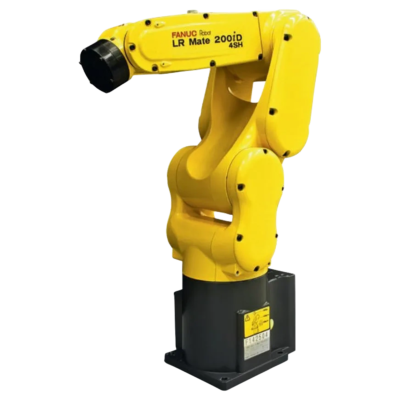 The short arm LR Mate 200iD/4SH offers the best 5-axis performance for weights up to 4 kilograms.  This robot is a cost-effective 5-axis solution that offers complete flexibility and quick handling of light payloads.
This ultra-compact short arm model is perfect for tight work spaces and small machines because it has a 550 mm reach and a high-speed wrist.  It is incredibly simple to implement, and is offered with a variety of extras, such as integrated intelligent (vision & force) capabilities, unique application packages, and complete IP69K protection.
Press the "Contact Us" button below to have our RobotWorld engineering team reach out to you or give us a call to discuss a potential Robotic integration project at 313-242-0505 today!
Specifications
| | |
| --- | --- |
| Axes: | 5 |
| Payload: |  4 kg |
| H-Reach: | 550 mm |
| Repeatability: | ±0.01 mm |
| Robot Mass: | 19 kg |
| Controller: | R30iB Mate |
| Mounting: | Floor, Inverted, Angle |
Motion Range
| | |
| --- | --- |
| J1: |  340° |
| J2: |  230° |
| J3: |  402° |
| J4: |  240° |
| J5: |  720° |
| J6: |    – |
Maximum Speed
| | |
| --- | --- |
| J1: | 460 |
| J2: | 460 |
| J3: | 520 |
| J4: | 560 |
| J5: | 1500 |
| J6: |   – |