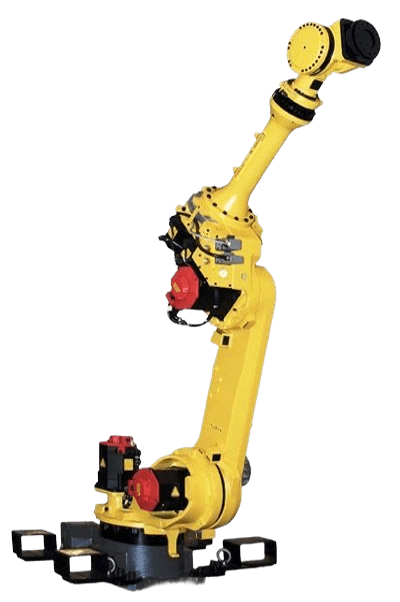 Fanuc refers to the R-1000iA/100F as a "Spot Welding" specialist.  This six-axis robot is very flexible with a payload of 100kg and a reach of 2230mm.  It is compact and light and is also great at assembly, part transfer and dispensing applications.
The R-1000iA series robots are very versatile and can be used with a standard floor mount or inverted or additionally on an angle.
Give us a call at 313-242-0505 to discuss your next application or press the "Contact Us" button below to have our engineering team get back with you.
Robot World is an authorized Fanuc Robotics Integrator located in Southeast Michigan (Detroit Area) and primarily servicing Michigan, Ohio, Indiana, Illinois, Kentucky and Tennessee.
Specifications
| | |
| --- | --- |
| Axes: | 6 |
| Payload: | 100kg |
| H-Reach: |  2230 mm |
| Repeatability: | ±0.03 mm |
| Robot Mass: | 665 kg |
| Controller: | R30iB |
| Mounting: | Floor/Inverted/Angle |
Motion Range
| | |
| --- | --- |
| J1: |  360° |
| J2: |  245° |
| J3: |  360° |
| J4: |  720° |
| J5: |  250° |
| J6: |  720° |
Maximum Speed
| | |
| --- | --- |
| J1: | 130 |
| J2: | 110 |
| J3: | 120 |
| J4: | 170 |
| J5: | 170 |
| J6: | 250 |