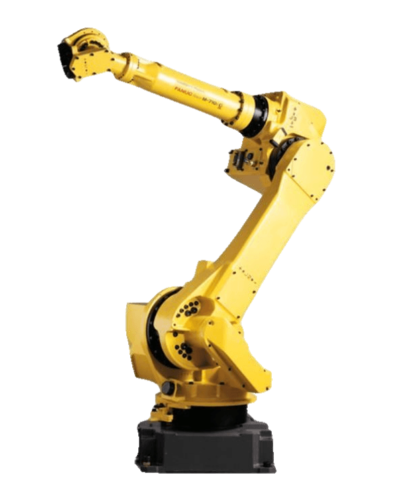 The Fanuc M-710iC/70 Robot has a slender wrist, a sturdy arm, and a small footprint. This strong 6-axis model, with the best payload and inertia in its class, combines a 70 kg payload with extremely high axis speeds and is appropriate for a variety of applications.
This type is perfect for handling heavy workpieces like steel panels and sheets of glass due to its high axis speeds and large payload capacity.
Call us at 313-242-0505 right away, or use the "Contact Us" button below to have a member of the RobotWorld engineering team get in touch with you.  We are a Fanuc Authorized Integrator and can help with all of your robotic needs!
Specifications
| | |
| --- | --- |
| Axes: | 6 |
| Payload: | 70 kg |
| H-Reach: |  2050 mm |
| Repeatability: | ±0.04 mm |
| Robot Mass: | 560 kg |
| Controller: | R30iB Plus |
| Mounting: | Floor, Inverted, Angle |
Motion Range
| | |
| --- | --- |
| J1: |  360° |
| J2: |  225° |
| J3: |  440° |
| J4: |  720° |
| J5: |  250° |
| J6: |  720° |
Maximum Speed
| | |
| --- | --- |
| J1: | 160 |
| J2: | 120 |
| J3: | 120 |
| J4: | 225 |
| J5: | 225 |
| J6: | 225 |