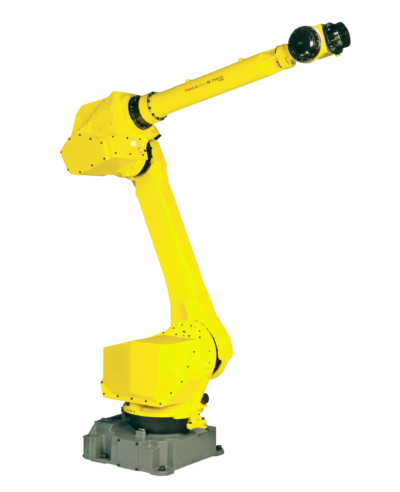 Through our authorized service integration agreement with Fanuc, we have the wide motion, multipurpose Fanuc M-710iC/45M robot available at RobotWorld.
When equipped with a drive enhancement unit, this type, which combines speed with a large work envelope and is perfectly suited for high-speed transfer operations. It is a great option for performing tasks where space is at a premium due to its small size and slender wrist.
Call the RobotWorld engineering and sales team at 313-242-0505 or press the "Contact Us" button to leave an email message about your application.
Specifications
| | |
| --- | --- |
| Axes: | 6 |
| Payload: | 45 kg |
| H-Reach: |  2606 mm |
| Repeatability: | ±0.06 mm |
| Robot Mass: | 570 kg |
| Controller: | R30iB Plus |
| Mounting: | Floor, Inverted, Angle |
Motion Range
| | |
| --- | --- |
| J1: |  360° |
| J2: |  225° |
| J3: |  440° |
| J4: |  800° |
| J5: |  250° |
| J6: |  800° |
Maximum Speed
| | |
| --- | --- |
| J1: | 180 |
| J2: | 180 |
| J3: | 180 |
| J4: | 250 |
| J5: | 250 |
| J6: | 360 |