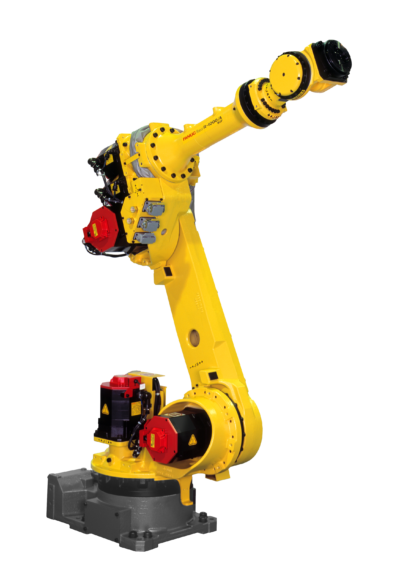 The Fanuc R-1000iA/80F is a six-axis robot with fast acceleration, resulting in improved cycle times.  This robot has an 80kg payload with a 2230mm reach and can be used in many applications including welding, material handling and palletizing.
With IP67 as a standard wrist protection it is capable of working in wet and dusty environments.
Robot World is a premier Fanuc Robotics Integrator in Southeast Michigan!  Give us a call at 313-242-0505 or  press the "Contact Us" button below to send our engineering team a message or question about your robotic application.
Specifications
| | |
| --- | --- |
| Axes: | 6 |
| Payload: | 80kg |
| H-Reach: |  2230 mm |
| Repeatability: | ±0.03 mm |
| Robot Mass: | 620 kg |
| Controller: | R30iB |
| Mounting: | Floor/Inverted/Angle |
Motion Range
| | |
| --- | --- |
| J1: |  360° |
| J2: |  245° |
| J3: |  360° |
| J4: |  720° |
| J5: |  250° |
| J6: |  720° |
Maximum Speed
| | |
| --- | --- |
| J1: | 170 |
| J2: | 140 |
| J3: | 160 |
| J4: | 230 |
| J5: | 230 |
| J6: | 350 |