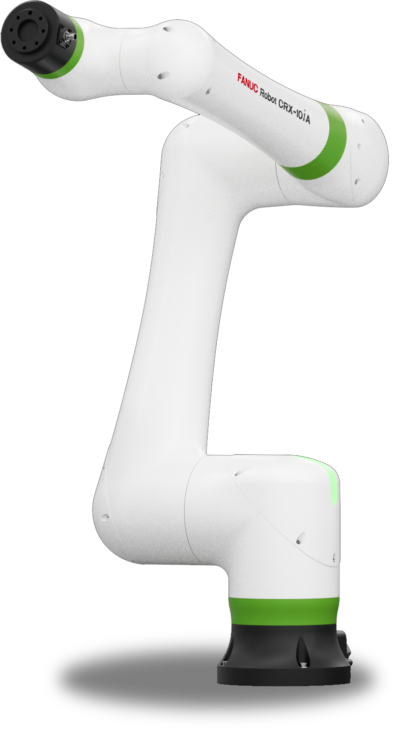 With a 10kg payload and 1,249mm reach, the Fanuc CRX-10iA Cobot is the ideal choice for producers with little to no robotics expertise. A brand-new FANUC programming interface with straightforward drag-and-drop functionality is available with the CRX series on a touchscreen pendant. The CRX-10iA can work securely alongside people in a variety of industrial and manufacturing activities because to its simple programming capabilities, world-renowned FANUC technology, established dependability, and sensitive contact detection.
This Cobot is lightweight and easy to install without a crane or lifting equipment.  It also uses Fanuc's R-30iB Mini Controller which can run on standard 120V power.  It is easy to program using CRX Cobot lead through programming with a new teach pendant user interface with drag and drop programming.
To get in touch with a member of the RobotWorld Automation team, call us at 313-242-0505 or click the "Contact Us" button below.
Specifications
| | |
| --- | --- |
| Axes: | 6 |
| Payload: | 10 kg |
| H-Reach: | 1249 mm |
| Repeatability: | ±0.04 mm |
| Robot Mass: |  40 kg |
| Controller: | R30iB Mini Plus |
| Mounting: | Floor |
Motion Range
| | |
| --- | --- |
| J1: |  380° |
| J2: |  360° |
| J3: |  570° |
| J4: |  380° |
| J5: |  360° |
| J6: |  450° |
Maximum Speed
| | |
| --- | --- |
| Collaborative Mode | 1000 mm/sec |
| High Speed Mode | 2000 mm/sec |