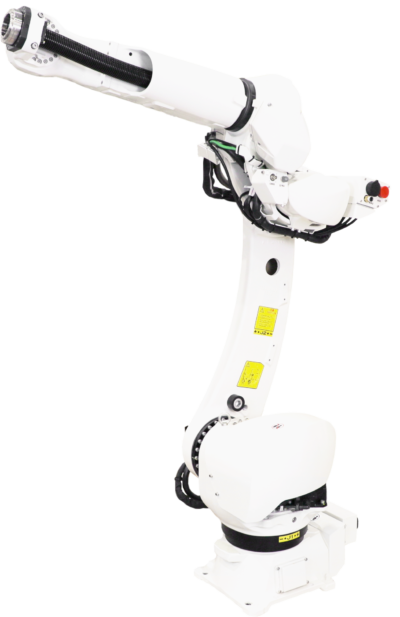 The FANUC M-20iD/25, which provides high performance in a compact design, is best suited for loading and unloading machines as well as for handling and positioning parts in crowded factory settings.  It has a small arm and wrist for easy access, and because of its newly enhanced design and drive train, it provides noticeably higher axis speeds and motion performance.  It provides a generous working envelope with an increased active stroke of 1831 mm, and its improved rigidity results in improved repeatability of 0.02 mm.
The FANUC M-20iD/25 maximizes throughput, leading to higher profitability, by combining performance and reliability.  Installation is simple, and maintenance costs are minimal.
RobotWorld Automation can assist with your next automation project!  We are an authorized Fanuc Integrator and can specify the proper robot for your application.  Call us at 313-242-0505 or leave a message by clicking the contact us button below.
Specifications
| | |
| --- | --- |
| Axes: | 6 |
| Payload: |  25 kg |
| H-Reach: | 1831 mm |
| Repeatability: | ±0.02 mm |
| Robot Mass: | 250 kg |
| Controller: | R30iB  |
| Mounting: | Floor, Inverted, Angle |
Motion Range
| | |
| --- | --- |
| J1: | 340° |
| J2: | 260° |
| J3: | 458° |
| J4: | 400° |
| J5: | 360° |
| J6: | 900° |
Maximum Speed
| | |
| --- | --- |
| J1: | 210 |
| J2: | 210 |
| J3: | 265 |
| J4: | 420 |
| J5: | 420 |
| J6: | 720 |