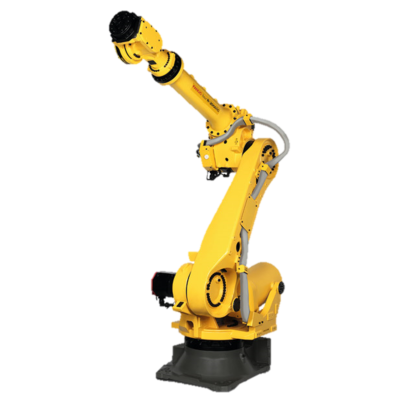 The FANUC R-2000iC/165F is part of the R-2000iC family of industrial robots with a wide range of payloads and reach. The six-axis robot has a compact design with a thin wrist that allows it to operate in small spaces. The robot, with a 165kg payload and a reach of 2,655mm, is a powerful and versatile solution for a wide range of material handling and spot welding applications.
Whatever the application, this model's 165 kg capacity makes it an excellent choice for tasks requiring large payloads.
Please use the "Contact Us" button below to have our RobotWorld engineering team contact you, or call us at 313-242-0505 today!
Specifications
| | |
| --- | --- |
| Axes: | 6 |
| Payload: | 165 kg |
| H-Reach: |  2655 mm |
| Repeatability: | ±0.05 mm |
| Robot Mass: | 1090 kg |
| Controller: | R30iB |
| Mounting: | Floor |
Motion Range
| | |
| --- | --- |
| J1: |  370° |
| J2: |  136° |
| J3: |  312° |
| J4: |  720° |
| J5: |  250° |
| J6: |  720° |
Maximum Speed
| | |
| --- | --- |
| J1: | 130 |
| J2: | 115 |
| J3: | 125 |
| J4: | 180 |
| J5: | 180 |
| J6: | 260 |