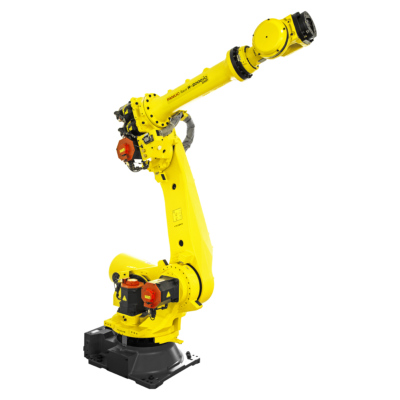 With a massive 210 kg payload, the Fanuc six axis R-2000iC/210F robot is ideal for a wide range of heavy handling jobs in almost any application.  It makes an excellent spot welding robot due to the numerous mounting options available for making the best use of space and creating an optimal work envelope.  It is suitable for food processing applications and wet environments with additional options.
This model is popular for heavy payload welding applications because it is easy to use and performs well.  There is a spot welding dress-out package as an option as well.
Press the "Contact Us" button below to have our RobotWorld engineering team reach out to you or give us a call at 313-242-0505 today!  We are a premier Fanuc Integrator in the greater Detroit area!
Specifications
| | |
| --- | --- |
| Axes: | 6 |
| Payload: | 210kg |
| H-Reach: |  2655 mm |
| Repeatability: | ±0.05 mm |
| Robot Mass: | 1370 kg |
| Controller: | R30iB |
| Mounting: | Floor |
Motion Range
| | |
| --- | --- |
| J1: |  370° |
| J2: |  136° |
| J3: |  312° |
| J4: |  720° |
| J5: |  250° |
| J6: |  720° |
Maximum Speed
| | |
| --- | --- |
| J1: | 120 |
| J2: | 105 |
| J3: | 110 |
| J4: | 140 |
| J5: | 140 |
| J6: | 220 |