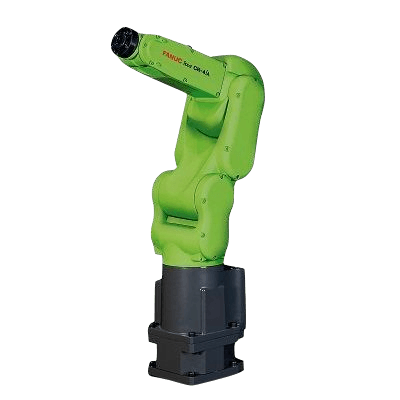 The Fanuc CR-4iA collaborative robot has six axes and a maximum payload of 4kg, making it the smallest in the collaborative family.  It is capable of handling simple, time-consuming manual tasks. Because of its small size, the robot can perform smaller tasks in areas with limited space.
Collaborative robots can take over mundane tasks and work side by side with humans to tackle more complex tasks that require more interactive approaches (e.g. robot hands the part and the operator handles the quality checking).
A safety stop feature allows close operation to humans without fencing, in addition to a compact, slim design. This unique ability increases space availability, resulting in significant cost savings.
Call us at 313-242-0505 or click the "Contact Us" button below to have a member of the RobotWorld engineering team get in touch with you!
Specifications
| | |
| --- | --- |
| Axes: | 6 |
| Payload: | 4 kg |
| H-Reach: |  550 mm |
| Repeatability: | ±0.01 mm |
| Robot Mass: |  48 kg |
| Controller: | R30iB Plus |
| Mounting: | Floor, Inverted, Angle |
Motion Range
| | |
| --- | --- |
| J1: |  340° |
| J2: |  150° |
| J3: |  354° |
| J4: |  380° |
| J5: |  200° |
| J6: |  720° |
Maximum Speed
| | |
| --- | --- |
| J1: | 500 |
| J2: | 500 |
| J3: | 500 |
| J4: | 500 |
| J5: | 500 |
| J6: | 500 |