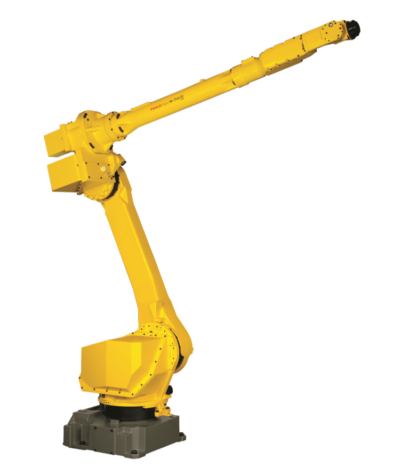 This brand-new 6-axis Fanuc Robot for small to medium payloads is perfect for all applications that require the ability to handle payloads up to 12 kg. Its expanded, long arm reach (3.1 m) and lowest payload capacity in the M-710 series make it the ideal solution for robotic sealing applications while working on automobile interiors or other difficult-to-reach regions.
The M-710iC/12L, with its lightest payload in the series, provides 6-axis versatility inside a spacious envelope for weights up to 12 kilograms. This particular robot is perfect for sealing the car body because of its extensive reach.
Press the "Contact Us" button below to have our RobotWorld engineering team reach out to you or give us a call at 313-242-0505 today!
Specifications
| | |
| --- | --- |
| Axes: | 6 |
| Payload: | 12 kg |
| H-Reach: |  3123 mm |
| Repeatability: | ±0.09 mm |
| Robot Mass: | 540 kg |
| Controller: | R30iB Plus |
| Mounting: | Floor, Inverted, Angle |
Motion Range
| | |
| --- | --- |
| J1: |  360° |
| J2: |  225° |
| J3: |  434° |
| J4: |  400° |
| J5: |  380° |
| J6: |  720° |
Maximum Speed
| | |
| --- | --- |
| J1: | 180 |
| J2: | 180 |
| J3: | 180 |
| J4: | 400 |
| J5: | 430 |
| J6: | 630 |