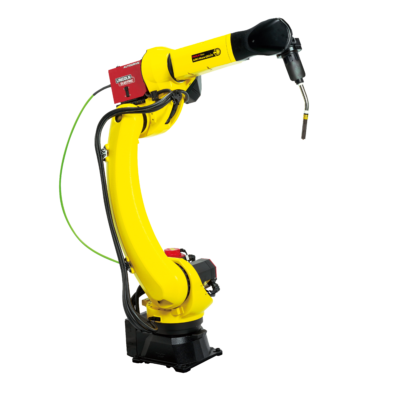 The ARC Mate 120iD is an excellent all-around welding robot with a slim articulated design that excels at welding in narrow jigs. It has a new drive train for significantly faster axis speeds and a repeatability of 0.02 mm thanks to its high rigidity. It has a large working envelope and can reach in very close to its own base for maximum operational flexibility. The ARC Mate 120iD increases productivity and profitability by combining FANUC dependability with higher motion performance. It features low operating costs and an easy installation.
The welding hose pack and cable management system are fully integrated in the ARC Mate 120iD series. The Fanuc ARC Mate 120iD also has a large 57 mm hollow wrist and hollow arm for trouble-free cable routing and snag-free access.
Press the "Contact Us" button below to have our RobotWorld engineering team reach out to you or give us a call at 313-242-0505 today!
Specifications
| | |
| --- | --- |
| Axes: | 6 |
| Payload: | 25 kg |
| H-Reach: | 1831 mm |
| Repeatability: | ±0.02 mm |
| Robot Mass: | 250 kg |
| Controller: | R30iB Plus |
| Mounting: | Floor, Inverted, Angle |
Motion Range
| | |
| --- | --- |
| J1: |  340° |
| J2: |  260° |
| J3: |  458° |
| J4: |  400° |
| J5: |  360° |
| J6: |  900° |
Maximum Speed
| | |
| --- | --- |
| J1: | 210 |
| J2: | 210 |
| J3: | 265 |
| J4: | 420 |
| J5: | 420 |
| J6: | 720 |