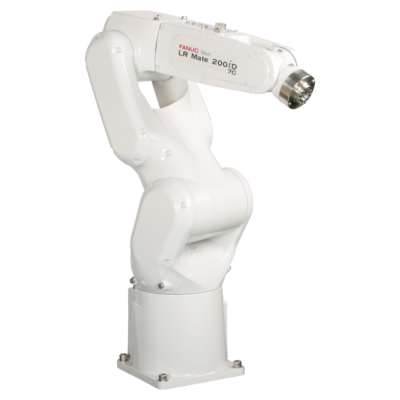 This small, multi-purpose 6 axis robot was created for clean room and food applications and has been meticulously built for maximum hygiene. The LR Mate 200iD/7C is incredibly simple to integrate and is also offered with a variety of alternatives, including built-in intelligent (vision and force sensing) capability.
The Clean Room LR Mate's are your best option for clean environments because they are water and dust proof.  For hot high pressure cleaning, there is an IP69K protection option.
Press the "Contact Us" button below to have our RobotWorld engineering team reach out to you or give us a call at 313-242-0505 today!
Specifications
| | |
| --- | --- |
| Axes: | 6 |
| Payload: |  7 kg |
| H-Reach: | 717 mm |
| Repeatability: | ±0.01 mm |
| Robot Mass: | 25 kg |
| Controller: | R30iB Mate |
| Mounting: | Floor, Inverted, Angle |
Motion Range
| | |
| --- | --- |
| J1: |  340° |
| J2: |  245° |
| J3: |  420° |
| J4: |  380° |
| J5: |  250° |
| J6: |  720° |
Maximum Speed
| | |
| --- | --- |
| J1: | 450 |
| J2: | 380 |
| J3: | 520 |
| J4: | 550 |
| J5: | 545 |
| J6: | 1000 |