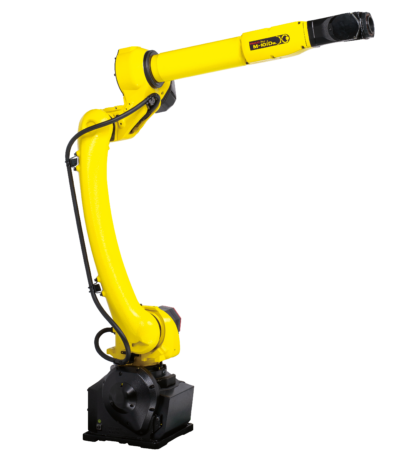 The Fanuc M-10iD/8L is well suited for compact robotic cells.  It has a long 2032 mm reach and payload of 8 kg.  It is typically floor mounted but capable of being installed on an angle or upside down.
This robot has a hollow arm which leads to quicker cycle times and higher productivity.  It has a fully integrated hosepack and cable management system allowing cables to be routed through the robot's hollow arm, wrist and body.
If you have questions about an upcoming automation project, the engineering staff at RobotWorld Automation can help! Call us at 313-242-0505 or leave a message by clicking the contact us button below.
Specifications
| | |
| --- | --- |
| Axes: | 6 |
| Payload: |  8 kg |
| H-Reach: | 2032 mm |
| Repeatability: | ±0.03 mm |
| Robot Mass: | 180 kg |
| Controller: | R30iB  |
| Mounting: | Floor, Inverted, Angle |
Motion Range
| | |
| --- | --- |
| J1: | 340° |
| J2: | 235° |
| J3: | 455° |
| J4: | 380° |
| J5: | 360° |
| J6: | 900° |
Maximum Speed
| | |
| --- | --- |
| J1: | 210 |
| J2: | 210 |
| J3: | 220 |
| J4: | 430 |
| J5: | 450 |
| J6: | 720 |