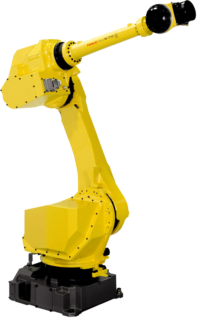 The permissible axis inertias are quite high on the Fanuc M-710iC/50. This model is perfect for handling heavy workpieces, such as sheets of glass and steel panels, thanks to its huge envelope and 50 kg payload capacity.
This cutting-edge line of portable robots has a slender wrist, a sturdy arm, and a small footprint. It is a popular robot for robotic machine tending, grinding, polishing, deburring, water jet cutting, and washing applications because of its high axis speeds and vast 6-axis adaptability.
Press the "Contact Us" button below to have our RobotWorld engineering team reach out to you or give us a call at 313-242-0505 today!
Specifications
| | |
| --- | --- |
| Axes: | 6 |
| Payload: | 50 kg |
| H-Reach: |  2050 mm |
| Repeatability: | ±0.03 mm |
| Robot Mass: | 560 kg |
| Controller: | R30iB Plus |
| Mounting: | Floor, Inverted, Angle |
Motion Range
| | |
| --- | --- |
| J1: |  360° |
| J2: |  225° |
| J3: |  440° |
| J4: |  720° |
| J5: |  250° |
| J6: |  720° |
Maximum Speed
| | |
| --- | --- |
| J1: | 175 |
| J2: | 175 |
| J3: | 175 |
| J4: | 250 |
| J5: | 250 |
| J6: | 355 |