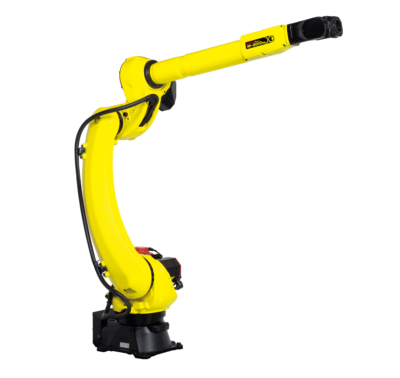 The Fanuc M-20iD/12L 6-Axis Robot is paired with the R-30iB Plus Fanuc controller to provide precise and fast handling.  It has a payload of up to 12 kg along with a 2272 mm reach and a large hollow wrist.  The hollow wrist is 57 mm in diameter and allows all cabling to be routed through it.  This robot was designed specifically for handling applications with a long horizontal reach.
The M-20 series are integrated into Fanuc's ROBOGUIDE software allowing offline programming for applications such as Assembly, Dispensing, Load Transfer, Material Removal and Pick & Place, Packing or Palletizing.
RobotWorld Automation can assist with your next automation project!  We are an authorized Fanuc Integrator and can specify the proper robot for your application.  Call us at 313-242-0505 or leave a message by clicking the contact us button below.
Specifications
| | |
| --- | --- |
| Axes: | 6 |
| Payload: |  12 kg |
| H-Reach: | 2272 mm |
| Repeatability: | ±0.03 mm |
| Robot Mass: | 250 kg |
| Controller: | R30iB Plus |
| Mounting: | Floor, Inverted, Angle |
Motion Range
| | |
| --- | --- |
| J1: | 340° |
| J2: | 260° |
| J3: | 458° |
| J4: | 400° |
| J5: | 360° |
| J6: | 900° |
Maximum Speed
| | |
| --- | --- |
| J1: | 210 |
| J2: | 210 |
| J3: | 265 |
| J4: | 420 |
| J5: | 450 |
| J6: | 720 |