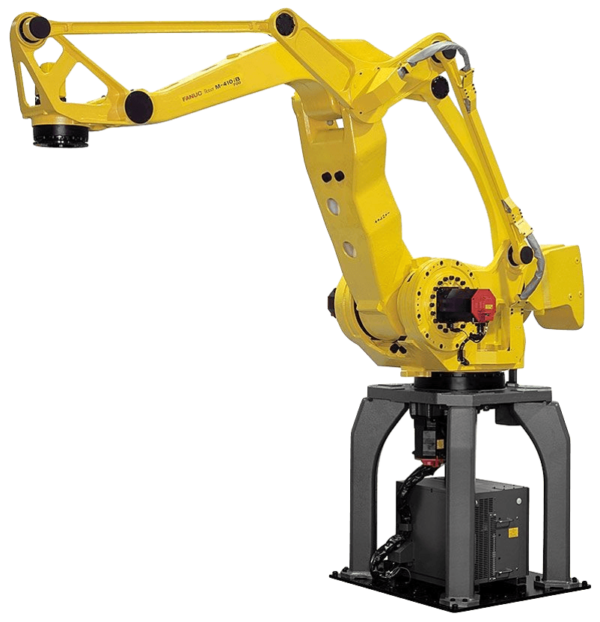 The M-410iB/700 Fanuc robot has the highest payload capacity of the range, lifting up to 700 kg and is equipped with a hollow wrist.  The M-410 series, designed specifically for the job by the company that created the world's first dedicated palletizing robot, increases throughput on palletizing and handling applications.
In addition, internally routed cables and hoses eliminate the possibility of snagging or wear in harsh handling applications.  The M-410 series has also been designed with the option of mounting the controller under the pedestal.
If you have questions about an upcoming automation project, the engineering staff at RobotWorld Automation can help! Call us at 313-242-0505 or leave a message by clicking the contact us button below.
Specifications
| | |
| --- | --- |
| Axes: | 4 |
| Payload: | 700 kg |
| H-Reach: | 3143 mm |
| Repeatability: | ±0.05 mm |
| Robot Mass: | 2700 kg |
| Controller: | R30iB  |
| Mounting: | Floor |
Motion Range
| | |
| --- | --- |
| J1: | 360° |
| J2: | 144° |
| J3: | 136° |
| J4: | 540° |
| J5: |   – |
| J6: |   – |
Maximum Speed
| | |
| --- | --- |
| J1: | 60 |
| J2: | 60 |
| J3: | 60 |
| J4: | 120 |
| J5: |   – |
| J6: |   – |