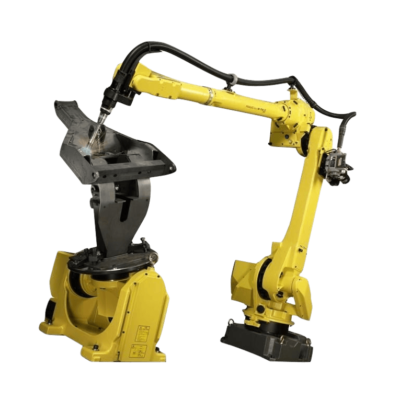 A long-armed, multifunctional robot, the Fanuc M-710iC/20L  has a small footprint, rigid arm, and thin wrist. It has high axis speeds and is very quick. This specific model has a big working envelope and can handle lighter payloads.
This robot is provides easy access to tight environments because to its high workspace flexibility and tiny footprint. This design is excellent for difficult settings because of its waterproof and dust-resistant wrist.
Press the "Contact Us" button below to have our RobotWorld engineering team reach out to you or give us a call at 313-242-0505 today!
Specifications
| | |
| --- | --- |
| Axes: | 6 |
| Payload: | 20 kg |
| H-Reach: |  3110 mm |
| Repeatability: | ±0.06 mm |
| Robot Mass: | 540 kg |
| Controller: | R30iB Plus |
| Mounting: | Floor, Inverted, Angle |
Motion Range
| | |
| --- | --- |
| J1: |  360° |
| J2: |  225° |
| J3: |  432° |
| J4: |  400° |
| J5: |  280° |
| J6: |  900° |
Maximum Speed
| | |
| --- | --- |
| J1: | 175 |
| J2: | 175 |
| J3: | 180 |
| J4: | 350 |
| J5: | 360 |
| J6: | 600 |