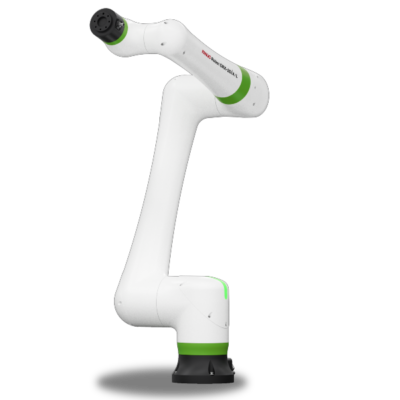 The CRX-20iA/L, one of the most recent additions to the CRX family of Collaborative Robots, has a 20 kg payload and 1,418mm reach, and its unique under-flip motion makes it ideal for applications that require a higher payload in a small footprint. The CRX Series of Cobots are 8 Years Zero Maintenance and excel in palletizing, welding, machine load and unload, inspection, material removal, and more!
Fanuc Cobots can work securely alongside people in a variety of industrial and manufacturing activities due to their simple programming, world-renowned FANUC technology, and sensitive contact detection.
To discuss your application with a member of the RobotWorld Automation team, call us at 313-242-0505 or click the "Contact Us" button below.
Specifications
| | |
| --- | --- |
| Axes: | 6 |
| Payload: | 20 kg |
| H-Reach: | 1418 mm |
| Repeatability: | ±0.04 mm |
| Robot Mass: |  41 kg |
| Controller: | R30iB Mini Plus |
| Mounting: | Floor |
Motion Range
| | |
| --- | --- |
| J1: |  360° |
| J2: |  360° |
| J3: |  540° |
| J4: |  380° |
| J5: |  360° |
| J6: |  450° |
Maximum Speed
| | |
| --- | --- |
| Collaborative Mode | 1000 mm/sec |
| High Speed Mode | 1000 mm/sec |