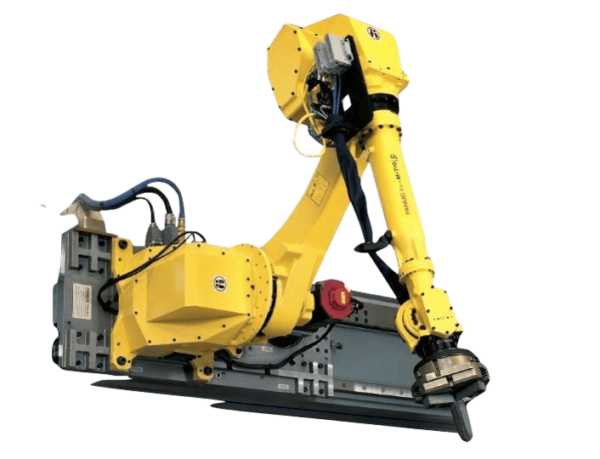 This cutting-edge line of Fanuc robots has a slender wrist, a sturdy arm, and a small footprint. It has high axis speeds and is very quick. This top mount variant, which can support 50 kg, is the lightest version available in this series. It offers a variety of mounting choices, conserves space, and has incredibly high repeatability.
The M-710 has unmatched reliability and repeatability ( 0.07 mm), great performance, and high-speed axes, accurate, and sturdy purpose-built reducers, and motors.
Call us at 313-242-0505 or click "Contact Us" to have a member of the RobotWorld Automation team get in touch with you about your application.
Specifications
| | |
| --- | --- |
| Axes: | 6 |
| Payload: | 50 kg |
| H-Reach: |  1900 mm |
| Repeatability: | ±0.07 mm |
| Robot Mass: | 410 kg |
| Controller: | R30iB Plus |
| Mounting: | Floor, Inverted, Angle |
Motion Range
| | |
| --- | --- |
| J1: |  *Rail Dependent |
| J2: |  261° |
| J3: |  491° |
| J4: |  720° |
| J5: |  250° |
| J6: |  720° |
Maximum Speed
| | |
| --- | --- |
| J1: | *Rail Dependent |
| J2: | 175 |
| J3: | 175 |
| J4: | 250 |
| J5: | 250 |
| J6: |  355 |