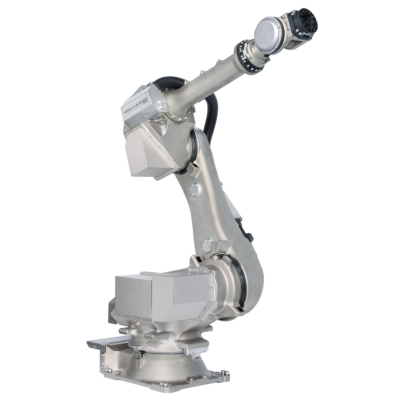 The Fanuc R-2000iC/210WE Industrial Robot is resistant to moisture and detergents due to special anti-corrosion protection applied to the reducer and the outer surface.  This strong and robust robot model can withstand the harsh operating (e.g. washing) environments for a variety of washing applications.
It is resistant to wet, dusty, or dirty tasks due to its mechanical design and IP67 protection as standard, and it can lift heavy weights of up to 210kg.
Please use the "Contact Us" button below to request a call from our RobotWorld engineering team, or call us at 313-242-0505 today!
Specifications
| | |
| --- | --- |
| Axes: | 6 |
| Payload: | 210 kg |
| H-Reach: | 2450 mm |
| Repeatability: | ±0.1 mm |
| Robot Mass: | 1180 kg |
| Controller: | R30iB |
| Mounting: | Floor |
Motion Range
| | |
| --- | --- |
| J1: |  330° |
| J2: |  141° |
| J3: |  318° |
| J4: |  720° |
| J5: |  250° |
| J6: |  720° |
Maximum Speed
| | |
| --- | --- |
| J1: | 95 |
| J2: | 85 |
| J3: | 95 |
| J4: | 120 |
| J5: | 120 |
| J6: | 190 |