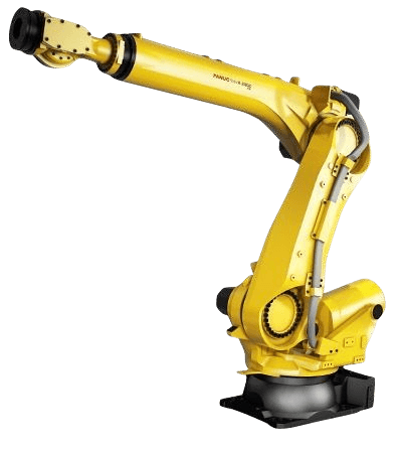 The R-2000iC/210L Fanuc industrial robot replaces the R-2000iB/185L model. However, this robot can lift an additional 25 kg and has improved rigidity, wrist load moment, and inertia. The R-2000iC/210L is ideal for automotive applications like spot welding.  Because of its relatively small size, it can easily fit into crowded factory environments.
With a reach of 3100 mm and a payload capacity of 210 kg, this industrial robot is an excellent choice for tasks requiring large payloads.  It is also commonly used for part transfer and pick & place applications.
Press the "Contact Us" button below to have our RobotWorld Automation team reach out to you or give us a call at 313-242-0505 today!
Specifications
| | |
| --- | --- |
| Axes: | 6 |
| Payload: | 210 kg |
| H-Reach: |  3100 mm |
| Repeatability: | ±0.05 mm |
| Robot Mass: | 1350 kg |
| Controller: | R30iB |
| Mounting: | Floor |
Motion Range
| | |
| --- | --- |
| J1: |  370° |
| J2: |  136° |
| J3: |  301° |
| J4: |  720° |
| J5: |  250° |
| J6: |  720° |
Maximum Speed
| | |
| --- | --- |
| J1: | 105 |
| J2: | 90 |
| J3: | 85 |
| J4: | 120 |
| J5: | 120 |
| J6: | 200 |