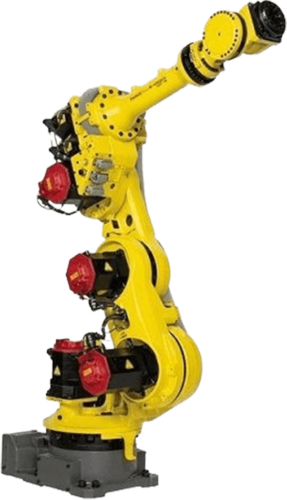 The Fanuc R-1000iA/120F-7B is a 7-Axis Robot designed for increased agility to operate within small work cells.  It has a 120kg payload and 2230mm of reach.  This design makes material handling and spot welding ideal applications.
The 7th Axis allows this robot the ability to fold and shorten its second arm, giving it the capability to work within very narrow environments.  In a spot welding application, the arm can be folded back without changing the gun position.
Similar to other R-1000iA series robots, the R-1000iA/120-7B can also be used with a standard floor mount, inverted mount or additionally mounted on an angle.
Press the "Contact Us" button below  or give us a call at 313-242-0505 to discuss your next application!
Specifications
| | |
| --- | --- |
| Axes: | 7 |
| Payload: | 120kg |
| H-Reach: |  2230 mm |
| Repeatability: | ±0.03 mm |
| Robot Mass: | 790 kg |
| Controller: | R30iB |
| Mounting: | Floor/Inverted/Angle |
Motion Range
| | |
| --- | --- |
| J1: |  360° |
| J2: |  200° |
| J3: |  385° |
| J4: |  720° |
| J5: |  250° |
| J6: |  720° |
| J7: |  225° |
Maximum Speed
| | |
| --- | --- |
| J1: | 130 |
| J2: | 110 |
| J3: | 120 |
| J4: | 170 |
| J5: | 170 |
| J6: | 250 |
| J7: | 130 |