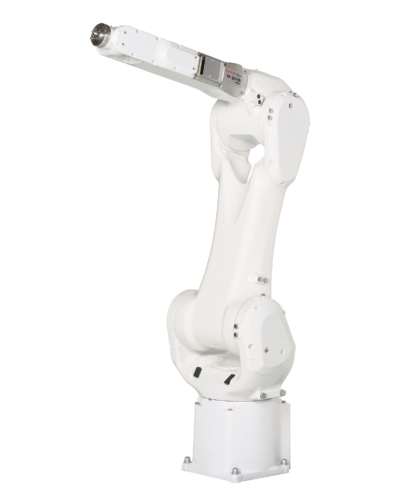 The M-20iB/25C is a Clean Room Robot from Fanuc with a 25 kg payload capacity.  It is a 6 Axis robot with an 1853 mm reach and is manufactured for use in cleanroom environments such as those found in medical, optical, pharmaceutical or the electronics industry.
Clean Room Robots from Fanuc are equipped with special white paint which is meant for daily wash downs that are common in these applications.
Your upcoming automation project can benefit from RobotWorld Automation's help!  We can recommend the right robot for your application because we are an authorized Fanuc Integrator.  Call us at 313-242-0505, or use the contact form below to send us a message.
Specifications
| | |
| --- | --- |
| Axes: | 6 |
| Payload: |  25 kg |
| H-Reach: | 1853 mm |
| Repeatability: | ±0.02 mm |
| Robot Mass: | 210 kg |
| Controller: | R30iB  |
| Mounting: | Floor, Inverted, Angle |
Motion Range
| | |
| --- | --- |
| J1: | 340° |
| J2: | 240° |
| J3: | 303° |
| J4: | 400° |
| J5: | 290° |
| J6: | 540° |
Maximum Speed
| | |
| --- | --- |
| J1: | 205 |
| J2: | 205 |
| J3: | 260 |
| J4: | 415 |
| J5: | 415 |
| J6: | 880 |