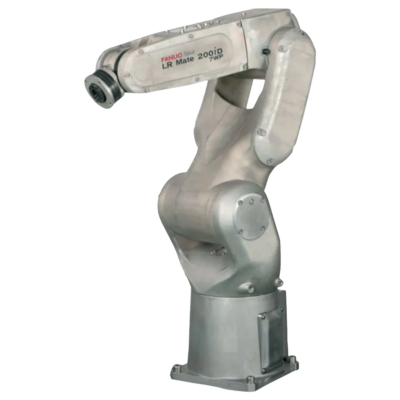 Because of its compact design and sealed mechanical units, the FANUC LR Mate 200iD/7WP can be integrated directly into a machine for robotic machine tending.
The washproof LR Mate is ideal for use in wet environments and high pressure washing applications. It comes with a variety of options, including integrated intelligent (vision and force) functionality.
Press the "Contact Us" button below to have our RobotWorld engineering team reach out about your upcoming application or give us a call at 313-242-0505 today!
Specifications
| | |
| --- | --- |
| Axes: | 6 |
| Payload: |  7 kg |
| H-Reach: | 717 mm |
| Repeatability: | ±0.01 mm |
| Robot Mass: | 25 kg |
| Controller: | R30iB Mate |
| Mounting: | Floor, Inverted, Angle |
Motion Range
| | |
| --- | --- |
| J1: |  340° |
| J2: |  245° |
| J3: |  420° |
| J4: |  380° |
| J5: |  250° |
| J6: |  720° |
Maximum Speed
| | |
| --- | --- |
| J1: | 450 |
| J2: | 380 |
| J3: | 520 |
| J4: | 550 |
| J5: | 545 |
| J6: | 1000 |