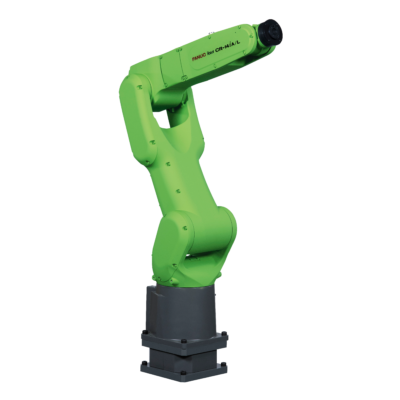 The Fanuc CR-14iA/L collaborative robot can be employed in many different applications, such as loading and unloading machines and other industrial automation tasks, because of it's combination of reach, payload, and size.  Collaborative robots use simple programming and hand instruction for teaching and handling, which make their features easy to utilize.
The small profile's flexibility and kinematics will allow operation close to the robot base, maximizing the usage of the available surface. This robot is a perfect candidate for projects that need to save space because of a tiny footprint of 296.5 x 235 mm.
Call us at 313-242-0505 or click the "Contact Us" button below to have a member of the RobotWorld engineering team get in touch with you!
Specifications
| | |
| --- | --- |
| Axes: | 6 |
| Payload: | 14 kg |
| H-Reach: |  911 mm |
| Repeatability: | ±0.01 mm |
| Robot Mass: |  55 kg |
| Controller: | R30iB Plus |
| Mounting: | Floor, Inverted, Wall |
Motion Range
| | |
| --- | --- |
| J1: |  340° |
| J2: |  166° |
| J3: |  383° |
| J4: |  380° |
| J5: |  240° |
| J6: |  720° |
Maximum Speed
| | |
| --- | --- |
| J1: | 500 |
| J2: | 500 |
| J3: | 500 |
| J4: | 500 |
| J5: | 500 |
| J6: | 500 |