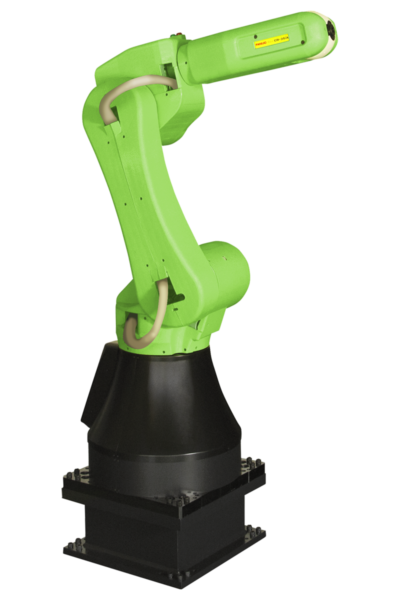 This Fanuc collaborative robot, CR-35iA, is capable of lifting 35 kg which can reduce the risk of repetitive strain and other injuries that a human worker might be exposed to.  This is currently the strongest of the Cobot series and can perform heavy lifting or positioning operations.
A safety stop feature allows close operation to humans without fencing. This unique ability increases space availability, resulting in significant cost savings.
Give RobotWorld Automation a call us at 313-242-0505 to discuss your robotic application or click the "Contact Us" button below to have a member of our engineering team get in touch with you!
Specifications
| | |
| --- | --- |
| Axes: | 6 |
| Payload: | 35 kg |
| H-Reach: |  1813 mm |
| Repeatability: | ±0.03 mm |
| Robot Mass: |  990 kg |
| Controller: | R30iB Plus |
| Mounting: | Floor |
Motion Range
| | |
| --- | --- |
| J1: |  340° |
| J2: |  165° |
| J3: |  258° |
| J4: |  400° |
| J5: |  220° |
| J6: |  900° |
Maximum Speed
| | |
| --- | --- |
| J1: | 250 |
| J2: | 250 |
| J3: | 250 |
| J4: | 250 |
| J5: | 250 |
| J6: | 250 |