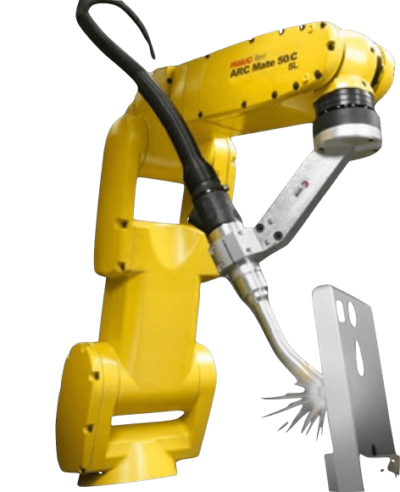 This most recent ARC Mate 50iD/7L model has increased reach and is a tough all-arounder that will uphold high standards in challenging working conditions. Speed is increased by using a lightweight, slender arm design, and part and tool accessibility is also improved. This Fanuc Robot has the ability to flip over backward for a greater work area. Arc welding torches can be automatically cleaned and dressed by the optional torch maintenance station.
This model provides an easy-to-integrate solution for small payload welding applications that require a longer reach.
Press the "Contact Us" button below to have our RobotWorld engineering team reach out to you or give us a call at 313-242-0505 today!
Specifications
| | |
| --- | --- |
| Axes: | 6 |
| Payload: | 7 kg |
| H-Reach: |  911 mm |
| Repeatability: | ±0.018 mm |
| Robot Mass: | 27 kg |
| Controller: | R30iB Plus |
| Mounting: | Floor, Inverted, Angle |
Motion Range
| | |
| --- | --- |
| J1: |  360° |
| J2: |  245° |
| J3: |  430° |
| J4: |  380° |
| J5: |  250° |
| J6: |  720° |
Maximum Speed
| | |
| --- | --- |
| J1: | 370 |
| J2: | 310 |
| J3: | 410 |
| J4: | 550 |
| J5: | 454 |
| J6: | 1000 |