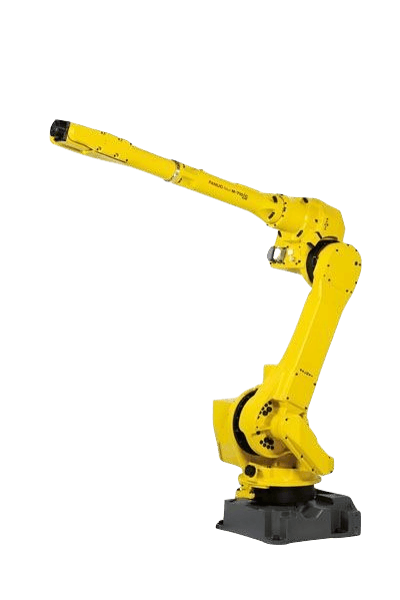 The Fanuc M-710iC/20M industrial robot has a slender wrist, a rigid arm, and a tiny footprint. It is especially well suited for operations involving arc welding, material handling, and sealant application because it has been expressly built to operate in confined places. Reach is comparable to the M-710iC/45M at 2582 mm. However, the J4 and J6 axis speeds are substantially higher.
The M-710iC/20M is an excellent substitute for the M-710iC/20L in situations where space is at a premium.
Press the "Contact Us" button below to have our RobotWorld engineering team reach out to you or give us a call at 313-242-0505 today!
Specifications
| | |
| --- | --- |
| Axes: | 6 |
| Payload: | 20 kg |
| H-Reach: |  2582 mm |
| Repeatability: | ±0.06 mm |
| Robot Mass: | 530 kg |
| Controller: | R30iB Plus |
| Mounting: | Floor, Inverted, Angle |
Motion Range
| | |
| --- | --- |
| J1: |  360° |
| J2: |  225° |
| J3: |  435° |
| J4: |  400° |
| J5: |  280° |
| J6: |  900° |
Maximum Speed
| | |
| --- | --- |
| J1: | 175 |
| J2: | 175 |
| J3: | 180 |
| J4: | 350 |
| J5: | 360 |
| J6: | 600 |