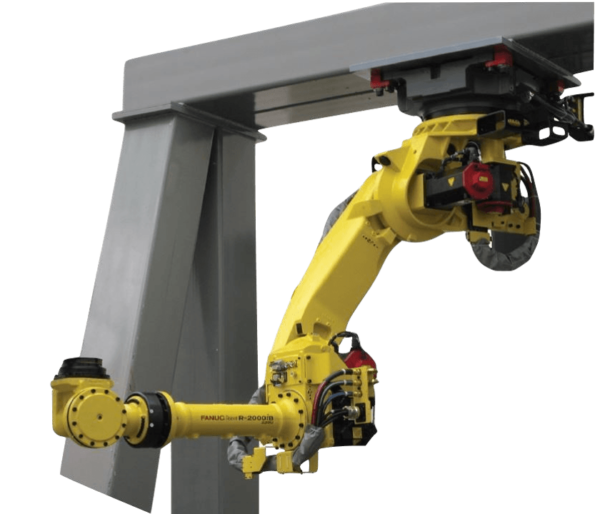 The R-2000iC/220U, as part of the Fanuc's most powerful robot series, is designed to fit a variety of workspaces while handling high payloads with precision.  By mounting it to the ceiling, this industrial robot model can be adapted to limited space cells.  Working from above allows it to maximize available space and avoid collisions when handling large work pieces or performing spot welding applications at a perfect angle.
A work cell that is not suitable for floor or wall mounting necessitates a solution that can adapt to such requirements. The R-2000iC/220U is mounted to the ceiling and can accommodate narrow cell designs due to its flip over capability.  This clever feature allows multiple robots to work in close proximity with shorter cycle times.
Please use the "Contact Us" button below to request a call from our RobotWorld engineering team, or call us at 313-242-0505 today!
Specifications
| | |
| --- | --- |
| Axes: | 6 |
| Payload: | 210 kg |
| H-Reach: | 2518 mm |
| Repeatability: | ±0.05 mm |
| Robot Mass: | 1020 kg |
| Controller: | R30iB |
| Mounting: | Inverted |
Motion Range
| | |
| --- | --- |
| J1: |  370° |
| J2: |  136° |
| J3: |  312° |
| J4: |  720° |
| J5: |  250° |
| J6: |  720° |
Maximum Speed
| | |
| --- | --- |
| J1: | 120 |
| J2: | 85 |
| J3: | 110 |
| J4: | 140 |
| J5: | 140 |
| J6: | 220 |