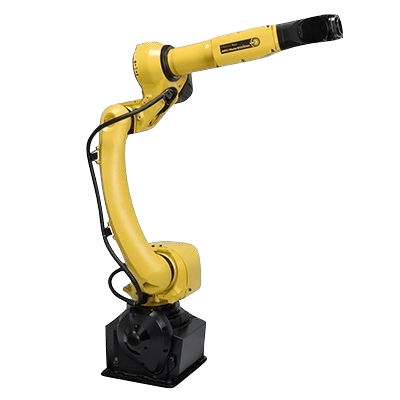 Due to its increased productivity and quick integration times, the Fanuc ARC Mate 100id-10L welding robots stands out.  This long arm variant offers exceptional axis speed and absolute precision.  An extremely adaptable arc welding robot, designed primarily for narrow installations, can work on rather large items due to its large horizontal stroke and may even be positioned upside down or angle mounted.
A completely integrated hose pack and cable management system are included with this Fanuc welding robot. The hollow arm, wrist, and body of the robot are used to transport cables, air pipes, and other utilities, in a simple and dependable manner.   This avoids robot interference with work cell equipment and peripherals, increasing system reliability overall.
Call us at 313-242-0505 , or use the "Contact Us" button below to have a member of the RobotWorld engineering team get in touch with you!
Specifications
| | |
| --- | --- |
| Axes: | 6 |
| Payload: | 10 kg |
| H-Reach: | 1636 mm |
| Repeatability: | ±0.03 mm |
| Robot Mass: | 150 kg |
| Controller: | R30iB Plus |
| Mounting: | Floor, Inverted, Angle |
Motion Range
| | |
| --- | --- |
| J1: |  340° |
| J2: |  235° |
| J3: |  455° |
| J4: |  380° |
| J5: |  360° |
| J6: |  900° |
Maximum Speed
| | |
| --- | --- |
| J1: | 260 |
| J2: | 240 |
| J3: | 260 |
| J4: | 430 |
| J5: | 450 |
| J6: | 720 |